Subaru Brake Repair Service & Coupons | Rochester, MN
Keep your brake system performing at its best so you can stop with ease in any road condition and avoid an unwanted accident.
The service center at Subaru of Rochester in Rochester, MN, is the place to go for exceptional service and repair by certified service technicians who know your Subaru inside and out. Call them at (888) 375-8345 or schedule a service appointment online if you need new brake pads, rotor repair or replacement, or inspection and replacement of other brake components or brake fluid.
Schedule Service Online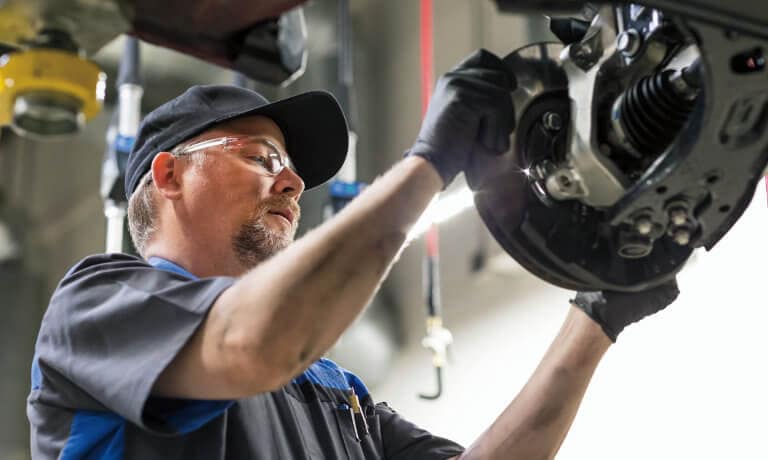 Subaru of Rochester

Brake Repair Services
At Subaru of Rochester, we offer expert diagnosis and repair of your brake system. Trust our certified, factory-trained technicians to deliver the peace of mind you need when you and your family are on the road.
Brake Pad Replacement
If your brake pads are worn and causing a squealing or grinding sound ― or maybe you're experiencing a vibrating sensation when you press down on your brake pedal ― you'll want to address the issue immediately.
Your brakes are integral to your driving safety as well as to those around you; if left unchecked, you could experience a loss of brake control or stopping accuracy. If you begin to hear noises that are uncommon or unpleasant, these are warning signs that something in your brake system needs attention.
Brake Rotor Replacement
The rotors in your braking system perform an important safety role when it comes to handling and keeping debri away from your brakes. If your rotors are worn, have surface rust, or are warped or have grooves, you'll need to have them looked at and repaired or replaced in order to keep things running smoothly.
The technicians at Subaru of Rochester are highly skilled and knowledgeable and will diagnose your brake system's condition and repair it to your complete satisfaction.
Brake Component Repair
Let our certified technicians fully inspect your brake system to ensure all components ― like ceramic front disc brake pads, rotors, or calipers ― are in good working order. If something needs to be repaired or replaced, we'll explain the situation to you and complete the job in a timely manner so you can get on with your day.
Subaru of Rochester

Common Signs of Brake Repair

Is your Subaru sedan, hatchback, wagon, or SUV squealing as you're coming to a stop, or perhaps grinding when you're backing up? Or maybe your brake system indicator light has come on prior to hearing a noise?

These sounds or warning signals should not be ignored. Don't delay ― schedule a service appointment and let our technicians take a look at your vehicle. Feel free to call our service team at (888) 375-8345 if you have any questions.
Performance
If you notice that the braking performance of your vehicle is showing signs of change ― perhaps you're experiencing a soft/pulsating feeling when you push down on your brake pedal, or your car pulls to one side, or it's taking longer to stop, or your steering wheel is shaking ― these are indications that your brake system needs attention.
Visuals
Brake dust can appear on your tires, which you'll want to address as soon as possible. Bring your vehicle to our service department and let our team do a thorough inspection of your brake system. Schedule a service appointment or call us at (888) 375-8345.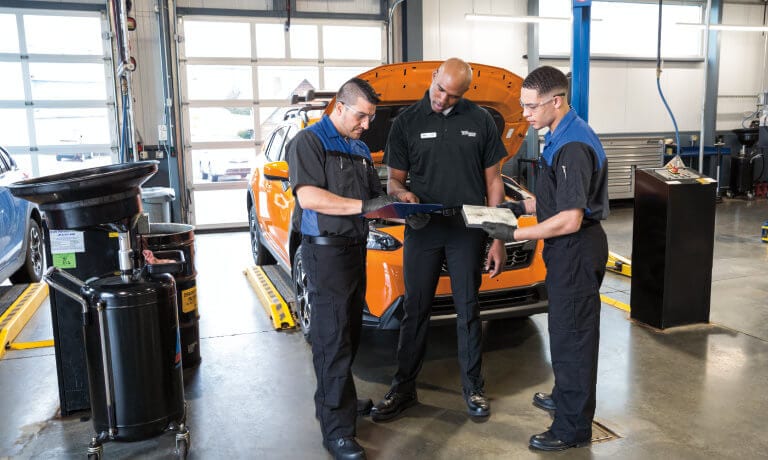 Benefits of Brake Repair at Subaru of Rochester
When you bring your vehicle to Subaru of Rochester for your regular maintenance needs, we'll inspect your brakes to ensure they're in top condition. If you notice sounds, changes in braking performance, or visible brake dust, let our service center team know, and we'll diagnose and fix the problem. Our team is factory trained and certified and works in a clean, state-of-the-art facility that's equipped with the latest tools and technology. And we use genuine OEM parts.
Subaru of Rochester

Schedule a Brake Repair Near Me

If you reside in Rochester, MN, or surrounding areas, schedule a service appointment online or call the Subaru of Rochester service center at (888) 375-8345. Your vehicle is a major investment; let us help you keep it in top condition for years to come.