The 2022 Subaru Love Promise Community Commitment Award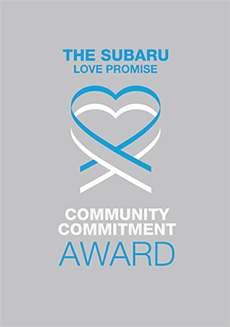 We've been nationally recognized for our dedication to our community and the Subaru Love Promise.
We're honored to receive the 2022 Subaru Love Promise Community Commitment Award. This award nationally recognizes Subaru retailers who are making the world a better place while demonstrating an outstanding commitment to supporting passions and causes in local communities. These efforts are focused in important areas such as the environment, community, health, education, and pets.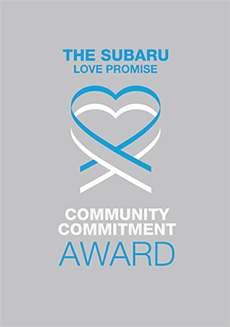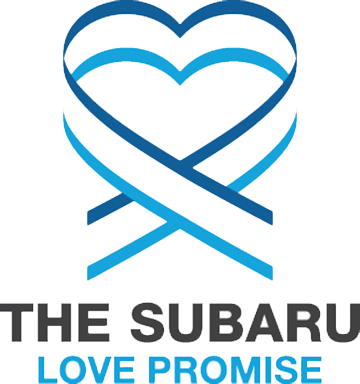 What is the Subaru Love Promise?
Subaru and our retailers believe in making the world a better place and the Subaru Love Promise is our vision of respecting all people. This is our commitment to show love and respect to our customers and to work to make a positive impact in the world.
How is Subaru of Rochester dedicated locally to the Love Promise?
We're lucky we live in such an awesome community. It has so much to offer. So we do what we can to support the community we love. We want to be involved. Our Love Promise can be seen in various partnerships with local charities and non-profits.
DowntownRochesterMN.com, Paws & Claws Humane Society
Help make Rochester a LITTER Bit Better, Quarry Hill Nature Center
Boys & Girls Club of Rochester, Gage Elementary School, Simply Love International
Rochester Football Club, Hiawatha Homes Foundation
Ronald McDonald House of Rochester, Family Service Rochester, Mayo Clinic Blood Bank
Love Promise Stories from Subaru of Rochester
Subaru and Subaru of Rochester believe in making a positive impact on the communities in which we live and work. We uphold that belief through our Love Promise Community Commitment. Every month, we select inspiring stories from customers and partners from around our area who strive to support our collective commitment and feature them here
Subaru Loves to Care - Angela C
On Tuesday, June 21, 2022, Subaru of Rochester and The Leukemia & Lymphoma Society, MN Chapter brought love to the families currently staying at the Ronald McDonald House of Rochester, MN. Carter and his father accepted blankets and craft kits alongside messages of hope written by Subaru customers and employees. The blankets, craft kits and kind messages bring moments of joy to Ronald McDonald House families. The joint efforts of Subaru of Rochester and The Leukemia and Lymphoma Society introduce Ronald McDonald House families to Rochester's caring community that exists outside of Rochester's prominent medical field. It is through donations like these that Ronald McDonald House families feel cared for and loved. We are so grateful for the generosity of Subaru of Rochester and the Leukemia & Lymphoma Society.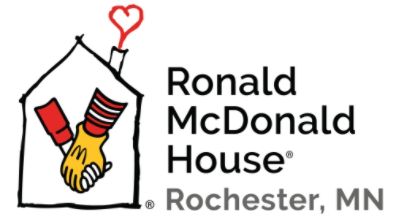 ---
Share the Love - MN Adult and Teen Challenge - David H
As statistics increase, the fight against addiction can seem almost hopeless at times. With recent factors such as Covid, isolation and an influx of illegal substances coming into our nation, addiction rates and overdoses have reached an all-time high. Minnesota Adult and Teen Challenge Rochester Center has been pivotal in helping those suffering from chemical dependency. With the generous gifts and support from Subaru of Rochester, we are helping to save lives, see families restored and clients transform into positive, productive members of the Rochester community. Thank you Subaru for your continued support in helping us to win this battle!!!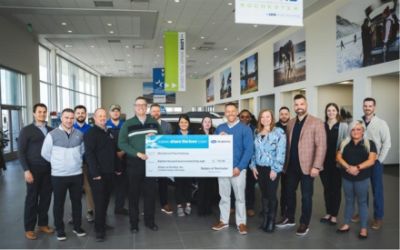 ---
Making our community a Litter Bit Better - Savanna C
Every spring our team gets together to clean our community and make it a Litter Bit Better, filling many bags of trash from the pond and ditches near Subaru of Rochester. One of our staff even found a plastic bag that had been used in a bird's nest! This is your friendly reminder to make sure your trash makes it in the trash and not our environment.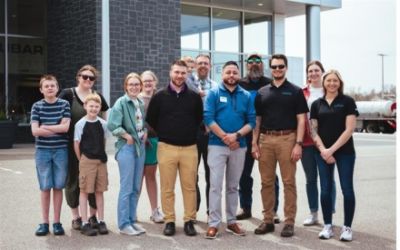 ---
Career Fair at St. Charles High School - Savanna C
Members from the Subaru of Rochester team had the opportunity to share with high school students from St. Charles, MN about the opportunities available in the automotive industry as part of a career fair. 9th through 12th graders were able to ask questions about the different positions in a dealership as they consider their options after graduation.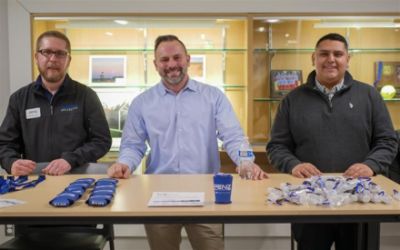 ---
Heroes? We think so! - Stacie H
Due to Covid-19 we found ourselves in a national blood shortage. When the Mayo Clinic Blood Donor Center was allowed to go out into the community again to host mobile blood drives, Subaru of Rochester was one of the first businesses to open their doors and roll up their sleeves. All of the blood that we collect is used locally to help save lives! Thank you Subaru of Rochester!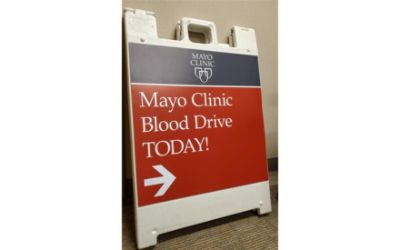 ---
Rocking the Red Kettle - Savanna C
The sales staff at Subaru of Rochester took ringing the bells this holiday season for the Salvation Army. The money raised throughout the holiday season is distributed to feeding the hungry, shelters for the homeless and Christmas gifts for children. All donations to the red kettles stay local - making an impact in our Rochester, MN community!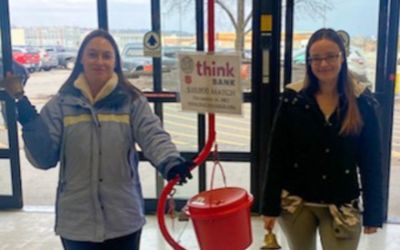 ---
MN Adult & Teen Challenge Rochester - Matt M
If you've paid any attention to the news lately, you'll know that drug and alcohol addiction has been plaguing our community. In fact, in 2020 over 1,000 MN residents lost their lives to overdose, not to mention the countless more who struggle with addiction each day. At MN Adult & Teen Challenge, our mission is to help these men, women, and teens find freedom from addiction. Our Rochester campus opened in 2014 with a 100 bed treatment facility for men. In 2017, we opened a 74 bed women's facility. Within our walls, our clients find life transformation and are able to return to our communities as productive members of society. Subaru of Rochester helps this change happen by supporting us every year as one of our corporate sponsors for our Gala. This support helps us to cover the costs of putting on this event, which is our largest fundraiser of the year. Without this Gala, we would not be able to do what we do. Thank you Subaru for helping us to save lives!!!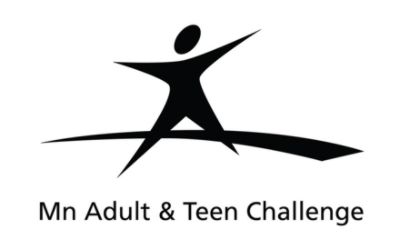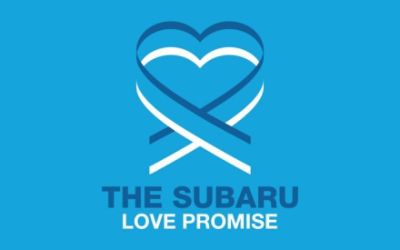 ---
Paws and Claws Loves Subaru - Tanya J
Paws and Claws has been a part of this community for 42 years. During this time there have been different challenges as well as opportunities for growth. We have been so blessed to have such wonderful community support, not only from adopters and volunteers, but also from businesses like Subaru. Subaru's support for shelter pets and adoption is so welcome, even more so in the trying times that COVID has brought upon all of us. Paws and Claws relies solely on donations and community support, as we receive no government funding. The donations from Subaru to Paws and Claws have been so helpful, and the adorable New Pet Parent Kits also put smiles on many adopters' faces (not to mention the dogs!)! Support from businesses like Subaru help Paws and Claws to continue to grow, and continue to help animals in need, even during challenging times.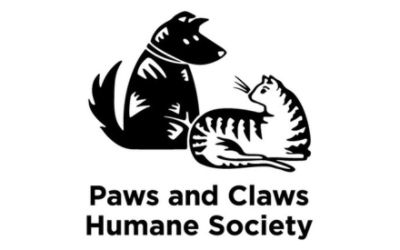 ---
Subaru Supports Franklin Elementary Classrooms - Sam P
Franklin Elementary has been incredibly fortunate to receive a $5,000 Subaru Loves Learning donation. This donation has directly benefitted the students in our school community. Through these funds, ten teachers each received $500 to purchase classroom resources to better support our students' learning and educational needs. When our school staff first found out about this generous donation, they were overwhelmed by the amount of this support and generosity. Every day our teachers work to meet the educational needs of our students. Having the additional resources provided by this donation has been incredibly helpful for our classrooms. We are especially grateful to Subaru of Rochester for thinking of our school community for this generous donation. This donation has had a profound impact on the students within our school community. In gratitude, Sam Pearson Franklin Elementary & Montessori at Franklin Principal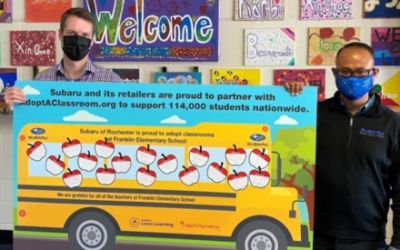 ---
Rochester Football Club - Midhat M
Rochester FC started in 2018 with a mission to provide local athletes an opportunity to play high level soccer and get college and professional exposure. Thankfully to Subaru of Rochester's support we have been able to continue doing what we love. Subaru has supported us these last 4 years and we are very thankful to Todd and the Subaru team. We appreciate all the work and charity Subaru does for our community as well, you have made a big impact.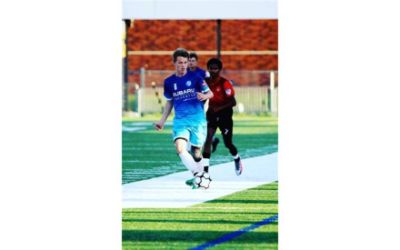 ---