The 2020 Subaru Love Promise Community Commitment Award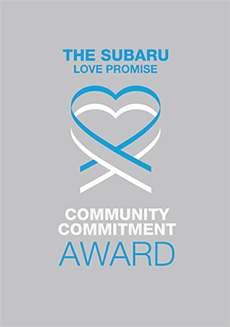 We've been nationally recognized for our dedication to our community and the Subaru Love Promise.
We're honored to receive the 2020 Subaru Love Promise Community Commitment Award. This award nationally recognizes Subaru retailers who are making the world a better place while demonstrating an outstanding commitment to supporting passions and causes in local communities. These efforts are focused in important areas such as the environment, community, health, education, and pets.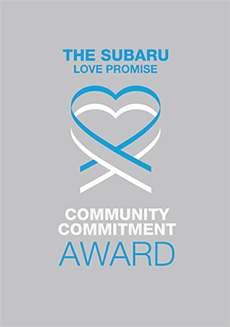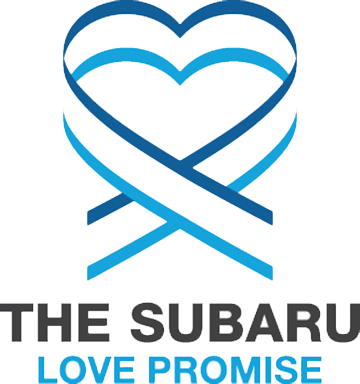 What is the Subaru Love Promise?
Subaru and our retailers believe in making the world a better place and the Subaru Love Promise is our vision of respecting all people. This is our commitment to show love and respect to our customers and to work to make a positive impact in the world.
How is Subaru of Rochester dedicated locally to the Love Promise?
We're lucky we live in such an awesome community. It has so much to offer. So we do what we can to support the community we love. We want to be involved. Our Love Promise can be seen in various partnerships with local charities and non-profits.
DowntownRochesterMN.com, Paws & Claws Humane Society
Help make Rochester a LITTER Bit Better, Quarry Hill Nature Center
Boys & Girls Club of Rochester, Gage Elementary School, Simply Love International
Rochester Football Club, Hiawatha Homes Foundation
Ronald McDonald House of Rochester, Family Service Rochester, Mayo Clinic Blood Bank
Love Promise Stories from Subaru of Rochester
Subaru and Subaru of Rochester believe in making a positive impact on the communities in which we live and work. We uphold that belief through our Love Promise Community Commitment. Every month, we select inspiring stories from customers and partners from around our area who strive to support our collective commitment and feature them here
Channel One Regional Food Bank - David S
The staff at Subaru of Rochester came out to Channel One to help pack boxes for mobile pantries in SE Minnesota. We're so thankful to partner with them to help fight for insecurity in our community. Thank you for all you do in the community! David Steenhoek Davidsteenhoek@channel-one.org
---
Volunteering at Channel One - Haley B
The staff at the Subaru Rochester, MN location recently volunteered at Channel One (safely social distancing) and packed over 470 pounds of cereal before 10am! It is so awesome to see how just a few people can get together and make a huge difference for those in our community.
---
Blanket Donation to Local Shelter - Savanna C
November is National Homeless Youth Awareness Month and here in Minnesota, the start of the cold season. Thanks to the Subaru Loves to Help promise, 80 blankets were delivered and then distributed through Catholic Charities of Southern Minnesota, a shelter right here in Rochester. Thank you, Subaru of Rochester for providing extra warmth and positivity this holiday season. We appreciate the support!
---
Subaru's support for Rochester Football Club - Midhat M
We are lucky to have companies like Subaru in our community. The support they have provided for us and many other businesses in our community is amazing and we appreciate it very much. Thank you to all of the Subaru family for continuing to provide for our community. Thank you for helping us run activities. Thank you for bringing awareness to nonprofits like ours. A special thank you to Todd Penz! Todd is a caring and giving person. He is a role model for many of us. Thank you Subaru of Rochester! -RFC Family
---
Sharing the Love with Ronald McDonald House - Samantha W
Subaru of Rochester makes it possible for the Ronald McDonald House of Rochester to be there for children and families when they need it most. Thanks to the Share the Love event, families traveling to Rochester for their children's medical care have a place to stay, nutritious meals and are loved and supported while far from home. The team at Subaru of Rochester embodies the mission of the Ronald McDonald House and shares it with their customers during the holiday season. What a special gift to know you'll make a difference for families when purchasing a new Subaru! Thank you friends at Subaru of Rochester for making tough days brighter for the kids at the Ronald McDonald House!
---
42nd Annual Swing Your Birdie Golf Classic - Angela C
The Ronald McDonald House of Rochester, MN is proud to partner with Subaru of Rochester. The support of Subaru and their employees provides countless nights of restful sleep for families who are traveling to Rochester for medical care for their child. At the 42nd Annual Swing Your Birdie Golf Classic, Subaru's support continues to shine. As a sponsor of the Golfer Gift, Subaru of Rochester provides a souvenir for our golfers while inspiring them to learn more about the mission of the Ronald McDonald House. Each year, Subaru of Rochester invites our local community to join them in supporting children and families at the Ronald McDonald House.
---
Pandemic Support - Tanya J
Subaru of Rochester has been a supporter of Paws and Claws Humane Society for many years; always thinking of ways to help the animals in our care. This past year, with the COVID-19 pandemic, Subaru of Rochester reached out about donating money for each pet adopted during the month of October, as a part of their "Subaru Loves Pets" campaign. As a non-profit, Paws and Claws runs solely on donations, we don't receive any government funding. Even during these difficult times, Subaru of Rochester was willing to help out however they could. We truly appreciate the continued support! Thank you Subaru of Rochester, for helping Paws and Claws continue to help and take in animals in need, so that they can find their forever families!
---
Chad Came In On His Day Off - Jan J
I recently bought a 2019 CrossTrek. Didn't know I was looking for a new car but when at the dealership with my son, I saw "her" across the parking lot and fell in love! Chad Bjorkman was the salesperson who assisted me as I made decisions and ultimately decided to purchase. He was professional, courteous, flexible and caring. I'm sure it wasn't easy to teach me how to use the cool technology in the car but he was never impatient with me.I learned later that he came in on his day off when I picked up the car to ensure that all went well for me. He spent a long time getting the car set up, cleaned and then with me learning the bells & whistles. MUCH APPRECIATED, CHAD - YOU ROCK! Also, I live in northern MN and often go across the bridge into Ft. Francis Ontario Canada to shop. Last week I went there and when returning I was held up by the US Customs/Border Patrol Agent - not because I was in trouble, but because she wanted to talk all about my new CrossTrek and how much I liked it and she was thinking of buying one. Fortunate to say my trips back and forth always have been uneventful but this one definitely the most FUN! Way to go Subaru!!!!
---
Quarry Hil Nature Center - Run Wild 5k Trail Run - Pamela M
We are so grateful to our good-natured friends at Subaru and their dedication to community investment through the Love Promise Community Commitment. Since 1972, Friends of Quarry Hill has remained steadfast in the belief that connecting kids to nature by providing experiences outdoors is critical to developing healthy, happy adults inspired by and deeply connected with the natural world. Now, more than ever, we must reach out in to homes, schools, and childcare centers to provide access so that all youth experience fresh air and fresh perspective. Access to programs that inspire youth, guide families and provide resources for caregivers and teachers is critical to returning childhood to the outdoors. This is where Subaru stepped up to help. Subaru's sponsorship of Quarry Hill Nature Center's annual Run Wild 5k Trail Run and Wild Child Dash was a great boost – the proceeds and sponsorships from this annual race benefit the Nature Center's scholarship fund. This fund supports access to summer camp scholarships, reduced fees for school groups, and grant dollars for collaborative efforts toward new programming all with the goal of making the outdoors a bigger part of their everyday lives. Thanks again for the good-natured support!
---
Duck, Dive & Dodgeballs - Lindsey S
In July, the Boys & Girls Club of Rochester put out the call- the call for dodgeballs. We are an afterschool program serving children K-12 in the heart of Rochester. Our mission, to empower all young people, especially those who need us most, is sometimes complicated by the kinds of things that effect all non-profits. We depend on contributions and donations from the community to serve the roughly 1,400 youth, 91% of which qualify for free or reduced lunches, that pass annual through our doors. Which is where the heroes at Subaru of Rochester come in. When they heard our call for dodgeballs, our most popular gym-time game besides basketball, on social media, they immediately responded with a video of their own. A video describing a month-long promotion to raise the funds to purchase dodgeballs. And purchase dodgeballs they did! The Boys & Girls Club of Rochester received four MASSIVE bags of dodgeballs, enough to see us through the long winter months ahead, as well as spring. This morning as Todd and his crew came down to Club to visit. They bravely faced our group of excited youngsters, eager to get their hands on the new dodgeballs and brought a smile to everyone's face. We are so grateful for our friends at Subaru of Rochester and we cannot wait to see them again! They're always welcome back to Club for a rematch!
---
RMHMN Swing Your Birdie Golf Classic - Angela C
Subaru of Rochester's support of the Ronald McDonald House of Rochester, MN continues to outshine that of many. Time and time again, we see employees of Subaru of Rochester engaging with our mission and supporting families as they face some of the most difficult days of their lives. At the 41st Annual Swing Your Birdie Golf Classic Subaru of Rochester provided vital support to the Ronald McDonald House. Sponsoring the Golfer Gift, Subaru of Rochester not only provided a fun souvenir for our golfers but inspired countless community members to learn more about the mission of the Ronald McDonald House and join them in supporting families with ill children. We are so grateful for our partnership with Subaru of Rochester.
---
Orphans and Education - Jake W
*Watch the video to the very end! :) Subaru of Rochester is taking the month of August to focus on a community that we have not met in person. Our neighbors from nearly 9,000 miles away in Tengaru, Tanzania are doing great things to help young people get an education, but they need additional resources to grow and continue changing lives. Simply Love International is a non-profit that raises support for the Global Orphanage in Tengaru. That orphanage currently houses 19 young people and provides them with a home, a loving community, and a good education to help them grow and develop into active members of their community. The kids at Global Orphanage are full of life and smiles, and they absolutely love to sing! Subaru of Rochester is committing $50 from every vehicle sold to help fund school tuition costs for the children at Global Orphanage through the work of Simply Love International. On January 6th, 2020, Erin Rae of SLI will be visiting Tengaru and the orphanage to deliver these funds, spend time with the children, and take photos of what's going on so supporters can see their impact, and so potential supporters can see for themselves why we support this cause. Thank you to Simply Love International and Subaru of Rochester for getting involved with the Global Orphanage, and thank you to the Subaru community in Rochester for all your help that makes this sponsorship possible!
---
Rochester Football Club - Midhat M
It was a dream of ours to provide competitive soccer and give our local soccer athletes an opportunity to play at a national level. The support from our community has been amazing and we would not be able to do what we do without our sponsors. We are very thankful for Subaru of Rochester for being our main sponsor this year. Giving an opportunity to our local athletes is very important to our team and just like Subaru of Rochester, we believe in our community and helping. We want to give our players an opportunity to showcase their talents at the next level and hopefully earn some college scholarships. Our team had a successful year in 2019 with a record of 10-1-1 on the field. Thank you Subaru of Rochester for all you have done for our team and for our community! -Rochester FC Family Rochester Football Club is a soccer club in Rochester MN that provides competitive soccer for boys U-10 through U-16 and at the semi-pro level.
---
Lots of Fun at the Bamber Valley Elem. Fun Run! - Victoria C
The Bamber Valley Elementary School PTA is grateful for the support of businesses like Subaru of Rochester. Thanks to your support of our Fun Run, all of the more than 850 students at Bamber Valley Elementary were able to have a free shirt for the event. It was not only a fun event, but also one that emphasized healthy exercise while raising funds for the PTA to help fund field trips, classroom materials, and more. Thank you for your support!
---
Blanket delivery w/ LLS & Ronald McDonald House - Shannon B
Subaru of Rochester and The Leukemia & Lymphoma Society, MN Chapter spread love, hope and warmth to both blood cancer patients and families currently staying at The Ronald McDonald House of Rochester on June 13. Subaru customers and employees wrote messages of hope as well as lots of funny jokes and pictures to cheer up pediatric patients. Those care cards were then handed out alongside donated blankets to provide comfort to patients staying at Ronald McDonald House. We had two Super Star guests who joined us for this blanket donation! Three-year-old Josiah and his family have been staying at Ronald McDonald for two months while he undergoes treatment for neutropenia. Josiah was joined by Nathan Herber, a local Rochester four-year-old currently battling lymphoma. His parents and brothers were thankful to be a part of such a generous event in the city they call home. While Nathan and Josiah high-fived each other and checked out their new blankets and craft kits from Subaru, the adults all chatted about how resilient and joyful these little boys are regardless of circumstances. We are so thankful for the generosity of Subaru of Rochester and grateful to The Ronald McDonald House as they provide hospitality services to so many pediatric blood cancer patients. But the real heroes of the day: Josiah and Nathan.
---
Subaru Shares the Love with Boys & Girls Club - Becca S
The team of Subaru of Rochester is dedicated to our community. They illustrated that in a huge way to those who need them most at Boys & Girls Club of Rochester with a recent donation to support the work that Boys & Girls Club of Rochester does every day for nearly 1400 kids in our community. "The love that Subaru of Rochester shared with our kids will make a significant impact in the general operations this summer," stated Director of Resource Development, Becca Stiles-Nogosek. "Summer is the busiest time of the year for us and this is when we need resources more than ever. We continue to be blown away by the incredible support that the Subaru team and their customers offer to us year after year. This gift will cover the full cost of operating club for nearly 2 weeks this summer. Thank you doesn't begin to express our gratitude, but it will have to do for now." Sincerest thanks to Subaru and all their customers who 'Shared the Love' this season!
---
Subaru of Rochester Donates to Paws & Claws - Tanya J
Paws and Claws and myself are so grateful for the support of our wonderful community. We could not save as many lives as we are able to, without the generous donations we receive from the public and businesses like Subaru of Rochester. I thank you on behalf of all of us here at PCHS, and we hope to continue this outstanding partnership.
---
Subaru Donates a Car - Tom T
Subaru of Rochester made the generous donation of a 3 year 30 thousand mile lease to Minnesota Adult and Teen Challenge as one of the featured items in our auction. We are grateful for their support for this ministry.
---
#SubaruLovesToCare w/ LLS + Ronald McDonald House - Celeste L
On Wednesday, July 11, 2018, as part of the National Subaru Loves to Care program, Subaru of Rochester worked with The Leukemia & Lymphoma Society to deliver blankets, cards of hope, and arts and crafts kits to patients at Ronald McDonald House in Rochester, Minnesota. Todd Penz and Josh Winkler, as well as several other employees of Subaru of Rochester, came to represent Subaru. They lit up the room when they brought in thegifts and were excited with the opportunity to hand them out to patients at the hospital. The delivery went smoothly and the Subaru team was able to greet many patients who were grateful for the support and blankets. Todd and Josh were nothing but smiles and their positive attitudes were contagious. Getting to meet with young patients who were undergoing treatment was especially moving and just made it that much clearer how meaningful these acts of kindness are. Patients were touched by Subaru's show of support and commitment to the cause. It was a special day that made a difference and they look forward to doing it again next year. Thank you, Subaru of Rochester!
---
The Annual Pet Walk - Joshua W
Subaru of Rochester is an annual sponsor of the Paws and Claws pet walk. On May 5th we enjoyed meeting everyone's pets and giving away bandannas and toys. Thanks to all of the people who came by our booth and visited with us, it was a wonderful time. Subaru Loves Pets!
---
FCA Banquet - Todd P
The Subaru of Rochester team attended the FCA "Night of the Champions" Banquet in Rochester on April 22nd. It was a beautiful night of giving back to the community and hearing more about FCA's vision for athletes.
---
Christmas Miracle - Lisa E
Nearly four years ago I very unexpectedly became a single mom. My daughters are now 8 and 11. My 11 year old, Linnea, has a neuromuscular disease called Spinal Muscular Atrophy. It's similar to ALS, but it affects kids. Because of her extreme muscle weakness, she uses a power wheelchair and requires assistance with most activities of daily living. I have been working very hard these last several years to get Linnea all of the equipment and resources to support her needs. I am so humbled by Subaru of Rochester and the Penz family generosity. When I called you a while back I never intended for you guys to purchase a handicap van but just wanted some better ideas and wisdom from someone I knew in the car business.But went way above and beyond. I am so thankful to you and my life will forever be better with this burden off my shoulders. May God really bless you for this tremendous gift!
---
Ronald McDonald House Dinner - Kristen P
Thank you for all your work and time planning such a wonderful dinner for the children and families at the Ronald McDonald House! The families appreciated the meal and the warm smiles from the employees. It was so nice to see the Subaru team there serving and wanted to share how truly grateful we are for your caring generosity. We couldn't do what we do without special friends like Clements Subaru and it is truly hearts like yours that make this house a home!
---
Find your Inner Warrior! - Cory P
Everyone had mud on them, smiles on their faces, and phrases of "Can't wait to do this again next year!" filling the air at Muddy Warrior Run! Clements Subaru is a valuable partner and we are grateful for your support! We were able to donate $5,000.00 to DAV of Minnesota to help disabled veterans in our community connect to the resources they need. Muddy Warrior Run had 600 participants and is 100% supported & facilitated by local volunteers, including military personnel and a local law enforcement dive team. It provides a great way for families and groups to come together to overcome fear and accomplish something together while benefitting those who have served our country. Thank you so much for all that you do to help make this event a success every year!
---
Who Let the Dogs Out?! - Jenna B
Thank you to our Presenting Partner Clements Subaru for continuing to support this event for the third year in a row. Dogs Downtown creates an inviting and engaging downtown environment for pet owners and dog lovers alike. There were over 20 businesses and activities on site along with doggy sWAG, goodies, and socializing for people and their canine companions. More than 8,000 people and their dogs came! Thank you for helping put on this successful event! We value our partnership with Clements Subaru and hope to have the opportunity to work with you again next year.
---
#freezeup - Storm S
We lost a hard-fought game in the semi-final round of the playoffs. It was a tough way to end the season. Even though we fell short of our goal, we became closer as a team and as a family. We will bounce back next season! Thanks to all the fans who showed up and supported us. It really means a lot! THANK YOU to our sponsors – and our presenting partner, Clements Subaru! Everything this community has done for us is a huge blessing in making this organization what it is today! Med-City Freeze is a full contact 9-man semipro football team based out of Rochester, MN - a member of the Southern Plains Football League. #freezeup
---
Pridefest 2017! - Brandon E
Pridefest gives up a chance to get together as a community, meet friends, develop relationships and enjoy great entertainment. The Gay/Lesbian Community Services of Southeastern Minnesota (GLCS) held its first Pride event in 1988. As we've grown, it has moved to Soldiers Field. It was a huge success because of the volunteers that did all the event planning; the sponsors who helped fund the events; the vendors and performers who spent their time providing information and entertainment; and to those who attended. All are needed to make it a success. We were honored Clements Subaru was our premier sponsor. Thank you for showing your support for the LGBTQA community!!
---
35 Years of Summer Fun! - Brent A
After 35 years, Rochesterfest continues to be successful because of the great community support of partners like Clements Subaru. Thank you so much for your major sponsorship of the Grand Parade again. The parade was moved to Saturday afternoon and the community loved it. They came earlier and stayed longer. They enjoyed southern Minnesota's biggest parade with more than 100 units! Rochesterfest is committed to promoting and celebrating the city of Rochester and southeast Minnesota annually by connecting people through a variety of wholesome, entertaining community events. It was indeed - "35 Years of Summer Fun!" My heartfelt thanks.
---
Locks of Compassion - Mary A
Heartfelt thanks for "lifting up" the Locks of Compassion initiative in Rochester. In many parts of the world "love locks" attached to bridges and even metal trees have expressed uniting one to another. The "Locks of Compassion" project re-creates that symbolic expression of unity. Residents and visitors - many seeking healthcare assistance - are embracing this wonderful initiative and expressing their gratitude for the unique opportunity to unite their lock of compassion with so many others. Decorated locks express compassion for a child in need, a homebound senior, a family member, a visitor to our community; many are in honor of a loved one. Your sponsorship helps create new beginnings for refugee children. The display will be gifted to our great city and moved to a permanent location. When people visit Peace Plaza this summer to both create and view various expressions of compassion on decorated locks - the hope it inspires will begin to ripple … because of you!
---
Croquet Field Day! - David H
OMC Regional Foundation's annual amateur 9-wicket croquet tournament was held at Somerby Golf Club on a summer Sunday afternoon. It was a day for fun and a little friendly competition, and to raise funds for the expansion and facility improvements of the emergency medicine services at Olmsted Medical Center. Thank you to all players and volunteers who attended and helped to make Croquet Field Day! a huge success! A special thank you to sponsors who stepped forward. Clements is very generous to the greater Rochester community. As the local community-based healthcare organization, OMC appreciates all this support from local businesses.
---
#SubaruLovesToCare w/ Ronald McDonald House + LLS - Shannon B
In June 2017, Subaru of America and The Leukemia & Lymphoma Society (LLS) spread love, hope and warmth to cancer patients and their families in communities across the country. In Rochester, customers visiting Clements Subaru were given the chance to write personalized messages of hope to patients in their local community. Those care cards were then handed out alongside donated blankets to provide comfort and warmth to patients living at Ronald McDonald House of Rochester. A young family living at the Ronald McDonald House at the time was able to accept a blanket on the House's behalf and local blood cancer survivor, Steve Altchuler, accepted one on behalf of LLS. In July 2015, Steve was diagnosed with chronic lymphocytic leukemia (CLL). He was on a watch and wait protocol at Mayo Clinic first, and then had to begin chemotherapy in February 2016. Steve and his family have been wonderful supporters of The Leukemia & Lymphoma Society, and he was honored to accept a blanket from Clements Subaru on behalf of LLS and the children who receive a wonderful home-away-from-home at the Ronald McDonald House – Rochester, MN. We are so thankful for the generosity of Clements Subaru, and very grateful for The Ronald McDonald House as they provide hospitality services to so many pediatric blood cancer patients.
---
Subaru Loves the Earth! - Ana F
Here's a pix from a planting session at Bamber with Daisy (Girl Scout) Troop 47868. We'll keep working on the garden. What a great initiative – Subaru and Clements Subaru supporting the National Wildlife Federation's Certified Wildlife Habitat. And thank you for choosing Bamber Valley Elementary School. This Wildlife Habitat is a hands-on way in which our students, teachers, parents and administrators can make a difference in helping to restore native habitats, one garden (or schoolyard) at a time. There has been a movement to bring school gardens back into the forefront after years of neglect. Thanks to you and Subaru for this wonderful support of schools, kids and our environment. It is so important.
---
Celebrating Innovation and Creativity - Becca S
I am overwhelmed by the support, encouragement and energy from our community through our, first ever, Innovationology event. Connections were made, innovations were discovered, and games were played! What an amazing time to see adults learning through hands-on, playful experiences. And...this is just the beginning. Creating a space where families and youth, in our community, can connect to innovate and create, is something that we must continue to foster. We can only do this with your shared passion. Thanks to your support, we were able to raise more than $33,000 that will go directly to support the mission of the Minnesota Children's Museum Rochester of Sparking Learning through Play!
---
Hot, Nutritious Home Delivered Meals - Brenda W
I would like to again thank you for your great partnership during the Subaru Share the Love Event. Because of this partnership, our local Meals on Wheels program received a donation of $7,472.22! This wonderful donation makes a significant impact in the Meals on Wheels program and will provide nearly 3,700 meals! We deliver more than just meals. With each hot, nutritious meal our volunteers are also delivering daily contact, warm greetings and kindness. Meals are provided to anyone in need, regardless of their ability to pay. Recipients pay what they can afford and donations like yours help cover the rest. Thank you.
---
Hundreds of Pet Owners Head Out to Walk - Jenna M
Thank you so very much for being a loyal sponsor for the Paws and Claws Pet Walk. We raised $23,000! Your support means so much to us and makes all the difference in the world for the animals in our care. The Walk is one of our biggest fundraising events. Our volunteerbased shelter receives no government funding, and we rely on fundraisers like the Pet Walk to survive. We cannot thank our supporters enough. This is a fun, family event where you can bring your best friends of the furry kind. It's always fun to see the many sizes, shapes, and breeds of dogs who show up.
---
Celebrating 11 Years of Litter Pickup! - Mike K
The final results are in! Over 18,400 pounds of litter was collected by A Litter Bit Better! volunteers during this year's event. That is a total of over 9.22 tons! Approximately 3,250 volunteers picked up 241 sites that covered many locations around Rochester. Neighborhoods were beautified, citizens gave back to their community, and all of that waste was prevented from polluting our land and water. Approximately 131 tons of litter has been collected in Rochester over the past 11 years through this program. Special thanks to all the volunteers and sponsors for making this program possible for the last eleven years!
---
Business After Hours - Meghann S
Thank you so much for hosting such a great event. Your team does a great job and we sincerely appreciate your continued support. Business After Hours is one of the Chamber's longest running and most successful networking events with approximately 200 people in attendance. This free monthly event offers hundreds of local Chamber members a chance to network and develop new business contacts, while experiencing unique atmospheres offered by different monthly hosts. Everyone enjoyed seeing your brand-new dealership. We wish Clements Subaru continued success.
---
Ribbon Cutting Celebration! - Rita D
Our brand-new state-of-the-art dealership opened on time and on budget. Imagine that! The ribbon cutting ceremony was less than six months after our groundbreaking. We're so excited to show folks our new standard of service excellence. Rochester Area Chamber Ambassadors came to stand with us. We invited lots of others to our ribbon cutting; the architect, builder, all the vendors, business leaders, media, and of course, our new neighbors. We enjoyed delicious food and sent everyone home with a gift. This new dealership may be five times bigger, but our goal is the same - helping you find the right vehicle at the right price to best fit your needs and budget. Welcome to Clements!
---
A Place to Learn, Create, and Think Big! - Heidi H
Subaru Loves Learning. That's why they partnered with the American Association for the Advancement of Science. Through this initiative, Clements Subaru was able to donate outstanding science books with the goal of engaging young learners in the world of science and inspire them to want to learn more. We chose Riverside Central Elementary School here in Rochester, and boy, are we glad we did. It's an impressive school led by a forward-thinking leadership team. We found Riverside to be a place where students could learn, create, and think big. Enjoy the books. We can't wait to visit Riverside again!
---
Heroes Breakfast! - Lori T
Thank you for your generous support of the Boys & Girls Club of Rochester Heroes Breakfast and for sharing your personal story. You are recognized as one of our Corporate Heroes. Your support helps us provide experiences that enable today's young people to conquer tomorrow's challenges, provide effective programs, welcome and inspire more children who need our guidance each day, allow all kids to dream big and give them the opportunities to achieve them, and allow us to plan more effectively for more than a single year. As Coach Reeve stated regarding leading a team, "As you go, we go", and we are so impressed with the examples you set as community leaders!
---
Find the Love! - James R
Ever wondered what it would be like to win a brand new car? Becky from Byron did just that! Hundreds and hundreds of entries and phone calls...and on Saturday, it came down to 25 people holding 25 Golden Tickets, ready to drive away with a two year lease of a brand-new Subaru Outback. What a fun day…everyone (and I mean everyone) piled into the new location, and we ate, we listened to a great band, and then, at noon...one by one, each contestant tried their luck…and with only ten people to go, Becky was speechless! Truly. The crowd went wild with cheers and screams and hollers! It was awesome. Thanks for partnering with Y-105FM on this fun giveaway to promote the opening of your brand-new beautiful dealership.
---
Day of Fun Planned for YOU! - Terry L
They gathered their girlfriends and came for a day of shopping, entertainment and FUN! The Rochester Women's Fall Expo, back for its 20th year, was another success. This free expo attracted thousands of people. It featured more than 100 vendors sharing a wide range of products and services. Women learned about local businesses and met New York Times bestselling author Amanda Hocking. They loved the addition of the Clements Subaru Stage - with fashion shows, a how-to make-up session and live music. Townsquare Media of Rochester was proud to have partnered with Clements Subaru, an amazing organization, in saluting the entire community at the Women's Fall Expo. We certainly shared the love all around.
---
27th Annual Fall Auction Breaks Record! - Jenna M
Thank you Clements Subaru for your Gold Paw sponsorship and for coming to our Fall Auction. You are definitely dog tested and dog approved. Our cats are pretty happy with you too. The auction featured more than 300 silent items and 30 live items, helping Paws and Claws Humane Society raise a record $41,000 for the animals in our care! Our Fall Auction is known for its wonderful themed baskets that offer something for everyone. This auction did not disappoint. We thank Clements Subaru for your sponsorship. You are what makes this event and organization so great!
---
Invading High School Football Games - Caren B
At Townsquare Media, we believe that the backbone of America lies within its communities. We're proud to serve local high schools right in Rochester's backyard, and bring some cheer to pump up football season in Minnesota. We're also proud to establish community loyalty and presence within our area, which in turns grows our brand. Clements Subaru is all about spreading the love! The Subaru Love Promise is just that - a promise to do right by our community by partnering with nonprofit education, health, community, environment, and animal organizations. Together, with these values in common, Townsquare Media and Clements Subaru chose to share the love with local high schools during football season. Making them the stars at Football Fridays for seven weeks! Thanks for your partnership.
---
Muddy Warriors! - Cory P
Find your inner warrior! That's the theme of Muddy Warrior Run, the Ultimate 5K Obstacle Mud Run in Rochester. It was successful, because it's a wonderful community get-together that promotes physical activity and fun. Getting everyone together to laugh and have a good time and doing so with the purpose of helping others has always been our goal. We donated some of the proceeds to Disabled American Veterans of Minnesota. The DAV's mission is to build better lives for Minnesota veterans and their families. We're proud to help such a great organization. Was it easy? Nope. Worth it? Absolutely. We're grateful to all the military service members who volunteered, and give thanks to Clements Subaru for being our corporate sponsor. Let's do it again next year.
---
Dogs get their Day in Downtown! - Jenna B
First, thank you for your continued support of Dogs Downtown. Without you, this event would not be possible. I am excited to share that we had an estimated 9,000 in attendance at Dogs Downtown 2016! As you may recall, last year our attendance was 3,300. We are absolutely thrilled with not only the turnout, but the positive responses we have been receiving. This event was FREE and open to all of our favorite four-legged friends and their humans! Everyone enjoyed the activities, performances, games and give a ways. Congratulations on a successful event. We value our partnership with Clements Subaru and hope to have the opportunity to work with you again next year.
---
Fun for Everyone! - Brent A
Thanks so much for your sponsorship of this year's ROCHESTERFEST GRAND PARADE! The parade is one of the most popular summer traditions in the Med City. We had great weather, thousands of great spectators who had loads of fun. The generous support of great sponsors like CLEMENTS SUBARU make it possible for Rochesterfest to exist and for this annual "Celebration of a City" to continue to connect people through a variety of wholesome, entertaining community events. This year, with more than 60 different events over the nine-day celebration, it was "Fun for Everyone!" My sincerest thanks.
---
"Pop Up Play" Welcomed by Community - Karen C
The first "Pop Up Play" for the Museum was welcomed by the community. All guests were able to play, socialize and innovate with us at Forager. Adults and children alike were able to experience the Power of Play. The generosity of our corporate community is vital to the success of these kinds of events. On behalf of Minnesota Children's Museum Rochester and the Event and Sponsorship Committee, thank you for Clements sponsorship of the 2016 JUMBOJenga at the Platinum level. We hope that you will continue to enjoy playful learning by utilizing the JUMBOJenga set with your staff!
---
Successful Football Season for Med-City Freeze - Storm S
It was a dream of ours to bring amateur football back to the city of Rochester and surrounding communities, and to create a safe, fun and exciting environment fans could be proud of. The community showed major support to Med-City Freeze, and at the top of the list was Clements Subaru. You supported us. You believed that we could start a new team from the ground up. The Freeze went 7-2. We outscored foes 254-95 during the regular season. Thank you for being present at the games - helping to make Mother's Day extra fun with giveaways, throwing out footballs during halftime, etc. We showed our appreciation by helping out at non-profit events, picking up litter, and we plan to do more. It was a tremendously exciting first year! We are grateful. Med-City Freeze is a full contact 9-man semipro football team based out of Rochester, MN - a member of the Southern Plains Football League.
---
We 'Dig" our new Subaru Dealership! - Rita D
Look at our faces. We're excited. We're proud. We're building a new eco-friendly state of the art sales and service facility! This was our groundbreaking ceremony complete with gold shovels and hard hats. It was a beautiful June day. Customers, Chamber Ambassadors, VIPs and media were on hand to celebrate with us. Our $8-million dealership is being built on a five-acre parcel of land. With construction underway, it should open in December. We'll add 20 new positions, generating more than one million dollars in new payroll. Clements Managing Partner John Wade said, "As one of the fastest growing car brands in the USA and Southern Minnesota, Subaru is experiencing its 53rd consecutive month of growth. This expansion is what we need to keep up with the service and sales demands of our customers."
---
2016 Stellar Care Award - Rita D
The wall in our service drive boldly says, "Providing you a truly exceptional experience." That's our goal. Not only in our service department but in all areas of Clements Subaru. We earned the coveted Subaru Stellar Care Award for 2016 and we are so proud! It's not easy to achieve. Only an elite group of Subaru retailers achieve this recognition each year. To earn it our dealership must achieve and maintain Stellar Care performance standards and objectives. The list is long and the expectations are high. We must pass continual review by our customers and meet annual objectives established by Subaru of America, Inc. in many areas. What does this mean to you? The best dealership experience possible, one that we hope will have you coming back for many years ahead. Thank you for being our customer.
---
Success Stories Made Possible by You! - Jodi M
Every child is born with the potential to succeed - THANK YOU for investing in that potential! You are truly leveling the playing ground for all through your investment in Boys & Girls Club. Your gifts help to provide the following powerful impact statements which come directly from the youth we serve: 86% of Club members feel a sense of belonging. 92% have fun at Club. 92% feel there is a caring adult they could turn to for help or advice. 81% feel recognized by staff and peers when they try hard or do a good job. 82% believe school is important to their future success. 94% believe they can make a difference and help people in their community. We look forward to sharing success stories with you, made possible by you. Thank you again for your support.
---
Annual Spring Fest by Friends of Oxbow - Peggy M
Thank you for once again being a sponsor for our annual Spring Fest at Oxbow Park - and also for the basket for the silent auction. We had a great day and raised a record amount for Oxbow Park and Zollman Zoo. All money will be used for a future expansion and renovation of the Nature Center - long overdue. Oxbow Park was founded in 1969 and is one of Olmsted County's premier parks. There's no admission charge for the park or zoo and more than 70,000 people visit annually. Again, thank you for your generosity. It is greatly appreciated.
---
Furry-Friendly Pet Walk Supports Paws & Claws! - Jenna M
Thanks so much for your support. The 22nd annual Pet Walk raised a little over $20,000 this year. The Pet Walk was packed with fun activities for pets and their humans including free food and beverages, doggy bandannas, temporary tattoos, and of course, a wonderful walk in the sun. All proceeds benefited Paws and Claws Humane Society - committed to partnering with the community to shelter, protect and seek adoptive homes for abandoned or lost companion animals. Local pet-friendly businesses, like Clements Subaru, added to the event. Your guys were so much fun and I hope we can continue with this tradition in years to come. Thanks again! We couldn't do it without support from sponsors like Clements Subaru!
---
Record #litterbitbetter Pick-Up Week! - Rene L
Check out the haul of trash that Clements Subaru bagged up, saving it from the ditch and the Zumbro River. Thanks for being out there and involved in Rochester. This was the 10th Annual Help Make Rochester a Litter Bit Better! Event. 6.58 tons of trash (burnable waste - goes to Waste to Energy Facility). 2.09 tons of metal, tires and electronic waste (to be recycled). 1.00 ton of recyclables (bottles, glass, cans, cardboard - to be recycled). TOTAL = 9.67 TONS ... 19,340 POUNDS ... Less waste collected than last year! Over 122 TONS of litter have been picked up by volunteers thru the last ten years of the event. Thanks again for Making Rochester A Litter Bit Better!
---
Help Protect the Monarch Butterflies - Rita D
Thank you to everyone who visited Clements Subaru during the month of April. We handed out 200 milkweed seed packages so customers could pledge to help the monarch butterflies thrive and become a butterfly hero. Did you know that one out of three bites on our dinner plates is made possible by pollinators? We must protect the monarch butterfly! All of us at Clements Subaru are proud to have a National Wildlife Federation's Certified Wildlife Habitat. Stop by and check out our commitment to the environment. #SubaruLovestheEarth
---
Perfect Day for a Plunge - Kevin T
Despite single digit temperatures, the Rochester Polar Plunge saw 935 people jump into the icy water and raise more than $245,000 for Special Olympics Minnesota. The Polar Plunge is part of Minnesota law enforcement's yearround Law Enforcement Torch Run fundraising schedule to benefit Special Olympics. All proceeds go to Special Olympics Minnesota and are dispersed throughout the state. Among first-time plungers were football players Marcus Sherels of the Minnesota Vikings and Tim Nela of the Rochester Freeze/Clements Subaru. The pair jumped in with members of the Rochester Flyers, a local Specials Olympics team that serves more than 250 athletes. The athletes that got to plunge and meet you at the Polar Plunge were very excited and still are. Thank you.
---
A Chair Affair Breaks all Records! - Jennifer T
Wow! What a fantastic event! We continue to reach new heights because of your support. I thank you. Our staff and volunteers thank you. And the kids of Boys & Girls Club of Rochester thank you. A Chair Affair 2016 was a spectacular evening, raising $391,646 for kids! As we continue to serve youth in this community, I am filled with pride and hope - pride in all that we have already done to support kids, and hope as we embark on 2016 with such an incredible start. Your support allows hundreds of kids to have a positive outlook in life and believe in themselves to be all that they can be.
---
Big Turnout for Business After Hours - Becca S
Business After Hours (BAH) is Rochester's award-winning, premier networking event held at a different Chamber of Commerce member's place of business each month. BAH, which won the Rochester Convention and Visitors Bureau "Known for Networking" award in 2007, brings together upwards of 250 businessmen and women for networking, door prizes, hors d'oeuvres and refreshments. Thank you so much to Clements for hosting such a great event this month. Your team does a great job, and we sincerely appreciate your continued support. Thank you again!
---
Great Snow Ball celebrates the Power of Play! - Heidi M
On behalf of Minnesota Children's Museum Rochester and this year's Great Snow Ball committee, thank you for Clements sponsorship of the 2015 Great Snow Ball. The generosity of our corporate community is vital to the success of this event. We are thankful for Clements ongoing support. It was a wonderful evening celebrating the Power of Play. We raised nearly $17,000 to support the "Play for All" program, making the Museum more accessible to everyone in the community.
---
Pet Adoption Fun! - Tanya J
Paws and Claws Humane Society has a tremendous impact on Rochester and its surrounding communities. It's a busy place. We can provide care for 125 lost or abandoned companion animals on a daily basis. That means we average about 100 pet adoptions a month! It was fun to partner with Clements Subaru. October was Subaru Loves Pets month and Clements Subaru provided us with bright orange Subaru Loves Pets drawstring bags filled with goodies. People LOVED them! Thank you so much!
---
Football Friday Tailgate Party! - Scotty M
Nothing brings a community together like their unwavering love for high school football, and the 2015 season promised to be a banner year for all four Rochester teams Mayo, Lourdes, Century and John Marshall High School. We teamed up with Clements Subaru for the first ever Football Fridays. It was a huge success! Each week 106.9 KROC was live at one of the games for a tailgate party. Fans turned out to show their school spirit and for fun, music and prizes. Minnesota Vikings and JM alum Marcus Sherels was even on hand signing autographs and taking pictures with fans. Clements Subaru was great to work with. We wouldnt have been able to showcase our local schools without their support. Hopefully this will become an annual partnership with Clements.
---
RCTC celebrates its 100th anniversary! - Greg S
When Rochester Community and Technical College asked KSMQ Public Television to produce a documentary celebrating their Centennial Anniversary and History we accepted! To help with costs of production we looked for sponsors. Clements Subaru jumped at the opportunity to help make the story about an important part of their community possible. Clements Subaru also supports quality and excellence in their community by sponsoring local public television programs on a regular basis.
---
Helping Meals on Wheels - Brenda W
Partnering with Clements Subaru in June to Stuff the Subaru was a great experience. Not only did we gather needed items for Meals on Wheels survival kits, Clements loaned us a vehicle for the Rochesterfest Parade! Family Service Rochester looks forward to our continued work together. Earlier this year our Meals on Wheels program received a grant of $1,750. It was made possible by the Subaru Share the Love event, through which Subaru donated $250 for every new vehicle used or leased to a participating charity of the owners choice. Thank you Clements Subaru!
---
Rochester Tailgate Party supports at-risk youth - Darrell T
Bolder Options is celebrating 21 years of changing the lives of youth in Minnesota. This year's Rochester Tailgate Party was a huge success. Without donations like yours, we could not continue our mission of "teaching youth to succeed in ALL of life's races." Thank you for supporting the youth of Bolder Options.
---
Willow Creek Lifelong Learners - Josie W
Clements Subaru adopted my EL classroom. I cannot express enough how grateful I am on behalf of my students. It means so much for them to know that there are people out there who care about their success and want to invest in their futures. We will work everyday to become future members of society who seek to be lifelong learners. Thank you.
---
Doggone Good Day! - Jenna B
The Rochester Downtown Alliance (RDA) partnered with Clements Subaru on its first ever Dogs Downtown. Our vision was to create a place for pet owners and dog lovers alike to gather and enjoy family fun activities at Peace Plaza in the heart of the city. The day was a hit! Through our Eco-Counter we estimated 3,300+ people attended Dogs Downtown. That was just people and not our 4-legged friends. Activities ranged from training demonstrations, dog pampering, guest speakers and giveaways of doggy treats. It highlighted the great pet resources offered in Rochester, MN. We enjoyed the partnership and support of Clements Subaru. We heard lots of wonderful feedback and we appreciated their energy with this inaugural event.
---
Clements Subaru sponsors Grand Parade! - Carole B
Rochesterfest has been the citywide celebration in Rochester for 30 plus years. This nine-day celebration has something for everyone - with the Grand Parade being the highlight. A huge "thank you" to Clements Subaru for sponsoring the Rochesterfest Grand Parade. The thousands who lined the Parade route join us in saluting your great community involvement. Clements has always been a leader in supporting Rochesterfest and many other local groups.
---
LITTER Bit Better - Mike K
One week every April, thousands of volunteers work together across Rochester to scour ditches, parks, waterways and boulevards to pick up tons of trash! Service groups, businesses, scout troops, schools, faith groups, and neighborhoods pitch in to make A Litter Bit Better! an annual event in the City of Rochester. This year Clements Subaru joined in and picked up litter along the West Side of the Zumbro River from 16th Street SW to 12th Street SW. Thank you all again for all of your time and hard work! More than 3,800 pounds of recycling and 27,000 pounds of trash were collected by volunteers during this year's event. That's a combined total of over 15.44 tons! Your efforts, combined with those of over 3,000 participants, resulted in yet another successful year of A Litter Bit Better!
---
Clements Donates 16-Passenger Van to Local Club - Lori T
Boys & Girls Club of Rochester received a donation of a 16-passenger van valued at $35,000 from Clements. The van will assist with the Club's transportation needs. "This level of commitment to kids is simply amazing. We are fortunate to have philanthropic leaders such as Clements in our community," says executive director Jodi Millerbernd.
---