Value Your Trade in Rochester, MN
See what your current vehicle is worth and let Subaru of Rochester buy it from you.
Get an instant cash offer based on Kelley Blue Book® values and feel confident you're getting a fair offer. Searching for a new Subaru? You can apply the proceeds towards your next vehicle purchase or lease from us.
Search our new inventory or previously owned inventory to find your favorite ride. Then, stop by, shop online, or contact us at (507) 285-4777 to set up a test drive or move forward on a purchase or lease.
Get an Instant Cash Offer
Use the convenient Kelley Blue Book® tool below to generate your instant cash offer from Subaru of Rochester.
Here's how it works:
Step 1
To access the tool, type in your vehicle's VIN, license plate number, or make and model.
Step 2
Fill in your vehicle details, such as year, make/model/trim, mileage, tires, and any custom features you may have added. You'll also be asked about the condition of the vehicle.
Step 3
Schedule a visual inspection with our Kelley Blue Book representative.
Step 4
Get a cash offer that you can pocket or apply towards a new car lease or purchase.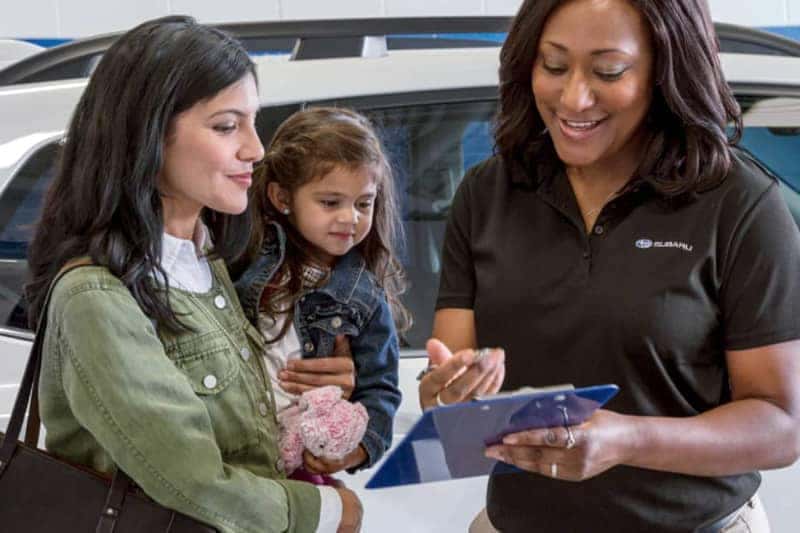 Get More for Your Trade at Subaru of Rochester
Would you like to know a secret? When you're getting ready to buy your next car, the best asset in your arsenal might not be financing or a down payment or anything like that. For many Owatonna and Red Wing drivers, the most valuable tool in your shopper's arsenal might be the car you're driving right now.
With a good vehicle trade, you can knock thousands of dollars off the price of your next car. At Subaru of Rochester, you'll find a team committed to making sure you get the trade offer you deserve.
Get a Custom Trade Estimate in Minutes
One of the biggest problems many Mankato drivers experience, when considering a trade, is not knowing how much their car is worth in advance. That lack of information can make it hard to plan a budget. Having an idea of your current car's value, in turn, can help you find a replacement that's better suited to the needs of your budget.
Before you visit us at our Rochester, MN, dealership, check out our online trade form first. Powered by the expertise of Kelley Blue Book, this easy-to-use form can help you set up an instant cash offer that can tell you more about the worth of the vehicle you're driving right now.
The best part? Even if you decide not to buy a car from us, we'll honor your cash offer and buy your vehicle. That way, you can put its value to best use, no matter where you ultimately decide to buy.
Contact Subaru of Rochester Today to Learn More
Would you like to know more about the trade-in process at Subaru of Rochester? Contact us today with your questions. We work with all sorts of customers from the Albert Lea area and more. We'd love the opportunity to tell you more about the new and used options available at our dealership.